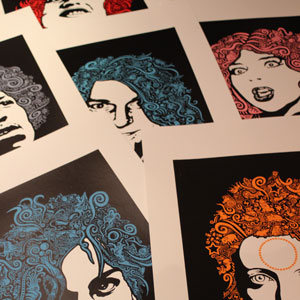 Hand pulled limited edition 2-colour screen prints from my Alternative Music Icons series. Get in touch if you'd like one!

These are quirky, twisted versions of well known musical greats that I dreamt up to incorporate my love of my love of beasts and nonsense. Images are as follows:
Piggy Stardust
Squid Barrett
Orangutangus Young
Germi Hendrix
Froggy Mercury
Kate Bushbaby
Kurt Cowbain
Each image is approx 297 x 420mm (A3) with a generous border for framing and artist signed and numbered editions of each are limited to 20.
Full detailed images can be found in my portfolio.