Cider label – Cardiacs Core cider
Label design/illustration/Music
Illustration and label design for a special Cardiacs inspired craft cider label in collaboration with Forest of Dean Cider producers Jolter Press.
Cardiacs are an amazing and indefinable English band with a devoted cult following. This limited edition cider was produced for a fundraiser concert/event being held to raise money for the leader of the band, who suffered a heart attack and stroke back in 2008 and is still battling to recover.
Client: Jolter Press
Medium
Hand drawn in photoshop via wacom tablet.
Testimonial: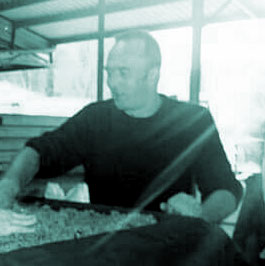 Pat – Jolter Press, craft cider producer (Project: Cardiacs fundraiser cider label illustration and design)
"Truly gobsmacked – very very stunned!
Completely blown away by the artwork, interpretation and all round skill and genius. Tim, you listened to the guidelines I gave and brought it to life…and quite a way beyond what I had hoped for. You've been the glue, nay SUPERGLUE, that has seen through a project… that is AS FLIPPING GOOD AS IT REALLY COULD POSSIBLY BE!!!! FANTASTIC!!!!!!!! And then the minutiae of detail in the final label design. So brilliantly done. Really can't thank you enough. Oh… and you're so easy to work with… just mega. You came up with something I'm really proud to be associated with and opened my flippin eyes! They're gonna look stunning on the bottles!"