Jake Bugg/Strange Creatures – Secret 7″ 2014
Music/Packaging
7″ single cover artwork for Jake Bugg – Strange Creatures. Exhibited as part of Secret 7″ 2014.
Medium
Pencil sketch, scanned and then inked, coloured and further detailed in Photoshop via wacom tablet.
Single cover on display at Secret 7″ exhibition 2014: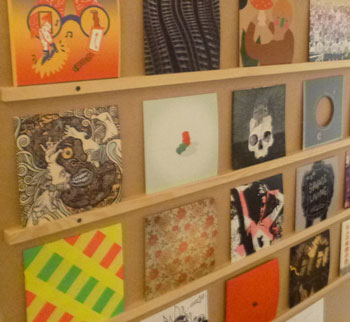 Brief:
Design a 7″ single cover for one of 7 different songs from 7 different music artists without stating the artist name or song title.
Solution:
I chose Jake Bugg – Strange Creatures whose minimal lyrics spoke to me as two outsiders uncomfortable in their mainstream surroundings, finding each other as solemates and coming together to share in their misfit world. To show this I used clearly similar odd looking characters with touching hand and foot head extensions representing the bond they have found. This bond is furthered by the male characters extended mouth which appears to be being sucked in by the female character as they stare intently at each other in mutual recognition and find love. The decorative surrounding is made up of particularly 'strange creatures' representing the outsider world that they can both now finally share in.