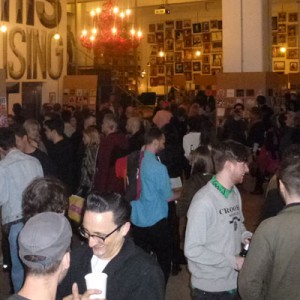 So, Record Store Day 2014 has now been and gone and the secrets are finally out!
For those who don't know, Secret 7″ inch is (in their own words):
'An annual event that combines music and art for a good cause. We take 7 tracks from 7 of the best-known musicians around and press each one 100 times to 7″ vinyl. We then invite creatives from around the world to interpret the tracks in their own style, resulting in a one-of-a-kind sleeve for every 7". The creatives are made up of famous names through to gems we unearth through artwork submitted to us here on our website.'
The idea is that the band and artist for each sleeve are kept a secret until after they are sold for charity on Record Store Day. This year the good cause was War Child.
Being fortunate enough to be chosen for Secret 7″ 2014 with my cover illustration for Jake Bugg – Strange Creatures, I went along to the private viewing prior to the day of the sale and had a great time viewing the splendid array of covers on display while giving generously to War Child by way of beer donations.
I unfortunately didn't make it to the sale on Record Store Day but I'm happy in the understanding that my cover went to a good home as it was not up on ebay the next day!
Great to have been part of such a great event and contributed to a good cause.